Athletic Club
The Athletic Club meets every Thursday (big break) and occasionally in the run up to competitions it will meet twice a week. The coaches are Aileen Bruton and Eileen O'Reilly

Most of the children from 3rd -6th class participate in the club which was set up to promote and encourage general fitness. More importantly, it allows children to participate in a sport at a pace and level suitable to each individual. Even after the first few weeks, both the children and coaches noticed remarkable improvements in the level of fitness.

The focus in the first term was long distance running as we prepared for the Meath Cross Country Race held in Bellewstown on the 27th of November. The track on the racecourse was a lot more challenging than the smooth path around the Threshing Field, where the children trained, however, it was met by the 4 teams with a lot of determination. The Under 11 team had an 800m course, while the Under13s teams had a further 400m of hilly terrain to face with a 1200m course to run. Each of the 27 school athletes ran very well and they were delighted with where they placed. There were approximately 200 children in each race and the club members managed to hold their ground at the starting line, break away from the crowd early and pace themselves around the grass track. Daragh O'Reilly, Shane O'Reilly and Holly Clarke notably placed in the top 20! Jamie Farrelly came as a substitute and he was a fantastic support on the sideline.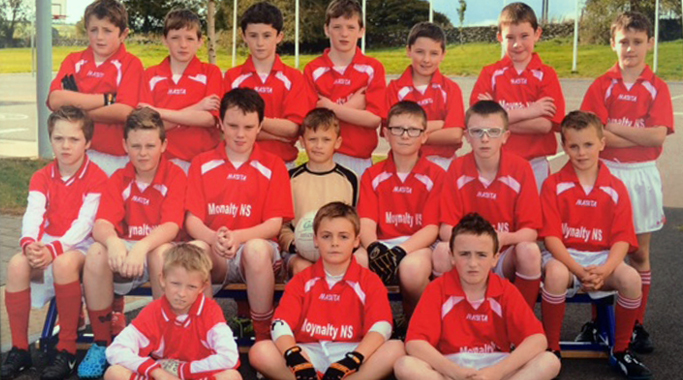 The following pupils participated:

Under 11 Girls: Emma Gorman, Sháuna Quinn, Gráinne Nevin, Cáit Gallagher, Muireann Reilly, Rebecca McMullan, Holly Clarke, Ashling Cahill

Under 11 Boys: Daragh O'Reilly, Shane O'Reilly, Kian Lynch, Patrick Lacey, Rory Ward, Daragh Cussen, Peter Olwill, Luke McQuaid

Under 13 Girls: Aibhínn Costello, Eileanóir Malone, Morgan Casemore, Sabrina Lynch, Ava Reilly

Under 13s boys: James Lynch, Joseph Gilsenan, Liam McCartan, Evan Govern, Dylan Gargan, Conor O'Reilly

Our next event is the Cumann na mBunscol Athletics Competition, which will take place in May or June. We have started training for the sprint and throwing events as well as continuing with our long distance training.


Football
FAI Soccer
Girls U-13 School Team
Gaelic
In conjunction with our local GAA Club, St. Mary's Moynalty, all children from 1st to 6th Class will participate in GAA training once a week for 6 weeks during May & June.
Cumann na mBunscol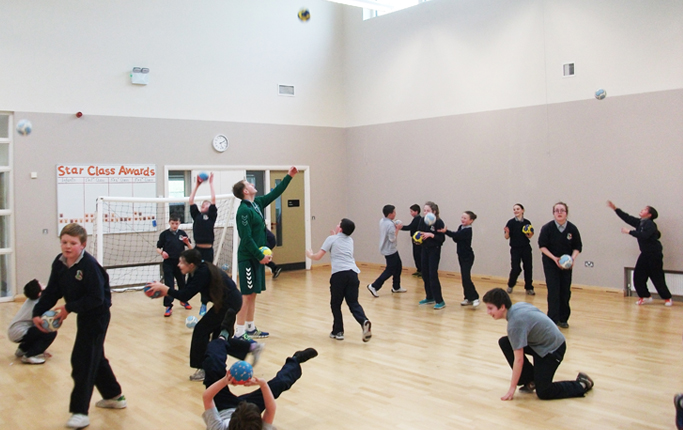 Olympic Handball
All children from 1st to 6th class participated in a 6 week programme delivered by the Irish Olympic Handball Association. Handball expert Mark Ferguson and his colleague Denis (over from Germany to experience coaching in Ireland) taught the children a variety of skills including the basic handball rules, passing, throwing and shooting techniques, hand-eye co-ordination drills and teamwork.

The children really engaged with the course and gained many skills that can be transferred to other sports and interests. We were very fortunate that the fine weather allowed the children to play on the Astro Turf Pitch for the majority of the course. Each child was awarded a certificate from the Irish Olympic Handball Association. The children really enjoyed the course and it is fantastic to see Olympic Handball being played by many of them at break times.


Basketball

Swimming
As part of the Aquatics strand of our PE Programme all children in Scoil Mhuire Moynalty participate in swimming for 6-8 weeks during the last term. All children will start their swimming on Friday 2nd May 2014 until the 20th June 2014 at Kells Swimming Pool. The cost is €45 and will be debited from their envelopes.


We request that children wear suitable swimsuits (no bikinis/tankinis), goggles, and hats and use a suitable bag with their names on it.
Please name all items belonging to children especially uniforms.
Long hair must be tied up on the morning before coming to school.
The children are encouraged to have a shower to rinse off the chlorine from the pool but are not to use any products ie. shampoo, conditioner, shower gel or deodorant.
The swimming is split into two groups: group one is the Junior & Senior Infants, boys from 4th class and all 5th & 6th class they swim in the first session and the bus will arrive at the pool at approximately 11.30am.They will swim from 11.45am to 12.30pm.

Group two will be 1st class up to 3rd class and the girls from 4th class they will arrive at the pool at approximately 12.15pm, they will swim from 12.30pm to 1.15pm.

We encourage independence and responsibility amongst children in dressing themselves. In line with Child Protection Guidelines and considering that there are older children in the dressing rooms parents are requested NOT to enter the changing rooms. Children will be assisted if necessary by older children and staff. All infants will use the female changing area. Please discuss the following Pool Rules with your children, thank you.


Pool Information
Pupils who need to leave the pool for any reason during class must inform the swimming instructor.
Please use baskets provided and bring them out to the shelves on pool deck.
Please help keep the pool clean and tidy by not throwing litter and take care to leave the dressing areas as you might like to find them.
Not Permitted
Diving in shallow end.
Summersaults, Back Flips, Horseplay, Bombing, Pushing, Running.
Jumping into the junior pool or big pool during play time.
Glass bottles to the pool (Shampoo/Drinks Bottles).
Use of the vending machine for children is strictly forbidden.
Swimming is a wonderful life skill for children to have and these lessons are a great opportunity to develop this skill. I hope the children all enjoy the splashing and the swimming.